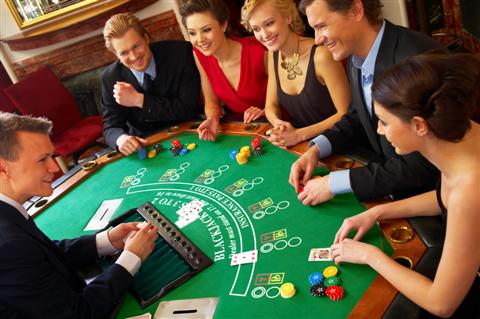 WARNING: Do NOT use a Casino Company that claims to have the MOST offices, claims to do the MOST parties and claims to have the MOST dealers. The same company writes their own reviews.....what good is a review if the owner and his wife write the reviews themselves. They will even re-direct you away from their Yelp reviews on their website. You want the REAL reviews go to yelp directly and put in their name and you will see the REAL reviews. Do not let YOUR event turn out to be a disaster, ask for a refund! Call the "TRUE CASINO EXPERTS"!
We will NEVER show up with a 'TUB' with a home layout to play craps or with a 'FLAT' craps table. We will not give you an 82'' 6-7 person poker table made in China that folds in half. Our beautiful poker tables are 96" 10 person tables, that come complete with stainless steel cupholders.
We use REAL, happy, fun Las Vegas Dealers! With over 60 years of Las Vegas experience we KNOW what it takes to make your event a huge success! Our Dealers will MAKE YOUR EVENT A COMPLETE SUCCESS!! We will match or beat ANY COMPETITOR'S PRICE!! We are committed to give you MORE than you pay for!! *
Often imitated but never duplicated! We give you THE MOST for your entertainment dollar!


Our Authentic Casino Equipment has been featured in 3 music videos, 5 independent films and 4 reality shows.
NOTE: Please add this website to your favorites, call everyone else and then call us. You will see the difference. We are THE FUN CASINO PEOPLE! We do Casino Parties right!



AAA Triple Diamond Events Casino Party Rentals is Southern California's PREMIERE CASINO TABLE AND EQUIPMENT RENTAL COMPANY employing REAL casino dealers to make your next event a huge success. Are you planning a casino party in Los Angeles? Orange County? Inland Empire? Palm Springs? San Diego? Or somewhere else in Southern California? Our casino rental company specializes in providing REAL CASINO EXCITEMENT for your next holiday party, corporate event, reunion or birthday party!
You just tell us the date of your casino party rental and we'll go from there making sure your next casino party rental is a huge success. Our goal is to give you and your guests a night of fun and excitement. Our casino rental equipment includes blackjack tables, crap tables, roulette tables, texas hold'em poker tables, 3 card poker, pai gow poker, money wheel (big 6), baccarat, and let-it-ride.
AAA Triple Diamond Events Casino Party Rentals has THE BEST TABLES AT THE BEST PRICES, HANDS DOWN!

AAA Triple Diamond Events Casino Party Rentals gets all their CASINO EQUIPMENT FROM LAS VEGAS....not from California!! We carry Regular Casino Tables, Deluxe Casino Tables and our High-End Casino Tables from Las Vegas!
*Deluxe Casino Tables will be included in ALL PACKAGES, based on availability. Not valid on previously booked events prior to 09.22.2013. In some cases, we may substitute a High-End Casino Table for a Deluxe Table at no extra cost. Thank you for choosing AAA Triple Diamond Events Casino Party Rentals!!